Broad bean is healthy vegetable for the white collars and people who have to keep the same body position for long working hours. One of the most heard suggestion from the doctors is that to eat the vegetables in season, spring is the season for broad beans to ripe, you can find many snack foods made of broad beans in the super market, while you might not familiar with the original fresh broad beans taste.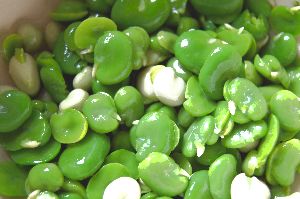 As the same with other kinds of beans, broad bean contains large quantities of protein, vitamins and minerals and dietary fiber. The vitamin A it could improve the eyesight for the drivers, computer users, students, it is a healthy vegetable contains low content of oil, and it has the anti-cancer effect for the carotene it contains. For the young females, it could help improve the skin conditions.
One simple recipe for the white collars is to fry the broad bean with 2 other vegetables-carrot and corn, these 3 vegetables makes a perfect healthy dish for the mental workers, spring time is very short, the vegetable in season is the gift from the nature, don't wait until it's too late.